Thursday, 3 December 2015 15:43:42 Europe/London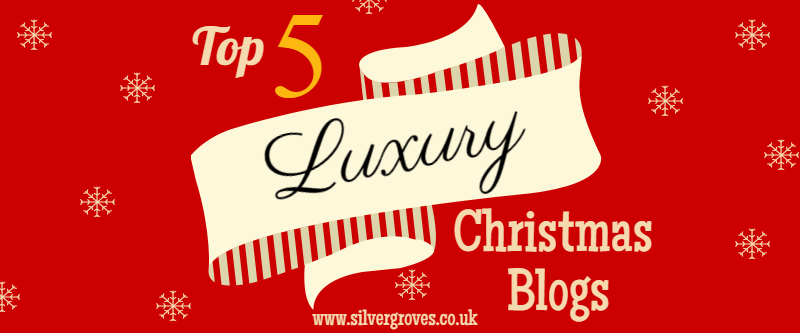 Christmas is a time for indulgence. And whether, for you, that means stuffing more than the turkey, decking more than the halls or rocking around more than the Christmas tree, my round up of the Top 5 Luxury Christmas Blogs of 2015 are sure to inspire you to add a new level of extravagance to the festivities this year.
Read More
Tuesday, 17 November 2015 10:17:00 Europe/London

My round-up of the Top 5 Men's Blogs at Christmas for 2015: offering advice, information and suggestions on everything from Christmas shopping, style and festive fashion (including skin and hair care), health and fitness over the holidays, Christmas entertainment (gadgets, gizmos, sports, hobbies and travel) and personal development that will help you make the most of social events over this festive period.
Read More
Monday, 28 September 2015 14:38:05 Europe/London

As we all prepare for the imminent release of Spectre - the latest installment in the James Bond franchise - we've looked back at 007's style throughout the years to bring you these Top 8 Lessons in Style that we've learned from the man with a licence to kill.
Read More
Monday, 21 September 2015 14:08:49 Europe/London
As I get older I seem to be accumulating more & more clothes, with a lot of the older clothes staying in the wardrobe. My choice was to have a clear out to the charity shop or look into how I can make the most of what I already had by just adding a few extra items to complement the older clothes.
Read More
Monday, 13 July 2015 10:10:00 Europe/London

You see it everywhere - and I don't mean blog posts about how to wear a suit, I mean men looking like a state! I have written this post based on my own knowledge in the art of suit wearing for the every day man to understand. Read, learn, and watch as your world become infinitely better form my wisdom.
Read More
Wednesday, 24 June 2015 13:09:05 Europe/London

With the hit sensation novel to movie 50 Shades of Grey release on DVD, I thought I would take a look at Christian Grey's top 50 style elements. The book and film may have been abysmal, but the man has been painted to have the most ridiculous sense of premier style in the USA.
Read More
Wednesday, 24 June 2015 12:57:43 Europe/London

We have supplied some further reading for your peace of mind when ordering with us. If you have any further questions, please feel free to contct us and we will happily respond.
Read More
Monday, 15 June 2015 14:05:00 Europe/London

The main complaint when it comes to weddings is spending a lot of money on things you will only wear or use for one day of your life. The next complaint is how all the attention is on the bride - so I have decided to write a dedicated blog post for the men, the grooms and the groomsmen of the party, and shed some ideas on how you can make your purchases stretch a little further and make them more meaningful.
Read More
Friday, 8 May 2015 16:33:00 Europe/London

Welcome to the first official blog post on 1st Choice Cufflinks! Developing into cutting edge style, I hope to provide interesting, exciting and quality information for the entire community in the world of men's fashion and style.
Read More