Men's Style Guide
Monday, 21 September 2015 14:08:49 Europe/London
Dress To Impress - A Capsule Wardrobe For Men
As I get older I seem to be accumulating more & more clothes, with a lot of the older clothes staying in the wardrobe. My choice was to have a clear out to the charity shop or look into how I can make the most of what I already had by just adding a few extra items to complement the older clothes.
A good female friend of mine suggested I should have a capsule wardrobe. She had to explain what one was to me but it sounded intriguing so I looked into it further. I did some research online to find out the important principles to a capsule wardrobe and decided it would be a good idea to note down what I discovered and share with others.
What Is A Capsule Wardrobe Some Of You May Ask?
A capsule wardrobe was defined by Susie Faux, the owner of a London boutique called "Wardrobe" in the 1970s. According to Faux, a capsule wardrobe is a collection of a few essential items of clothing that don't go out of fashion, such as jackets, trousers, and coats, which can then be augmented with seasonal pieces.
Buried deep in the unknowns of your wardrobe, behind hanger upon hanger of the same identical shirt, are great basics that can be worked with to create varied looks for all different occasions. A large wardrobe full of choice may seem the best idea but too much variety can be overwhelming and leave you picking the same 5 items in fear of rummaging for something new!
A capsule wardrobe made up of smart and casual basics can take you through any situation, relieving you of stressful outfit decision moments whilst saving you money in the process! Perhaps try to incorporate high quality investment pieces into your current look, adding a defined gentleman edge without going all out on a whole new wardrobe. Carefully picked garments in similar colours and tones make it easier to create looks, making you stylish and prepared no matter what life throws at you!
A capsule wardrobe can seem overwhelming, how can you squish all your wardrobe into a maximum of 20 pieces?!
---
Step Back And Start Choosing Pieces Of Clothing For Each Of The Following:
Three Piece Suit
Focus on the fabric quality and fit when considering buying a suit, checking to see that you have enough room to move about without being restricted and also making sure it doesn't drown your shape! Wear the correct length of trouser; not trailing along the floor but also not barely covering your ankle.
Coat
Choose a wool or woven material and a tailored fit; maybe size up to allow for layers during the depths of winter. A long knee or calf length coat will protect clothing against the great British weather, helping to lengthen the life span of your capsule wardrobe.
T-shirt
T-shirts are very versatile and can be worn in so many ways. Buy crew and V necks in white, grey and navy - giving unlimited possibilities for any situation. A man can never have too many T-shirts, right?!
Knitwear
When selecting knitwear, go for quality fabrics like merino wool or cashmere. They'll last for years whilst keeping you warm against the elements. Shades of navy, white and black are essential and will work with a suit and with casual T-shirts and jeans.
Chinos/Smart Trouser/Jeans
A beige pair of chinos are a classic and can brighten up an outfit. Coloured chinos can add a statement touch to a look. Jeans are essential in a capsule wardrobe, a classic pair in a blue wash with a straight cut should be in every man's wardrobe.
Smart Tailored Shirt
Smart shirts in a white, blue and grey would suit any item in your wardrobe, being able to be paired with a suit or dressed casual with a hoodie and jeans. The fit is up to preference, whether you're a slim fit or a looser fit type of guy I'm sure there's something for you!
Blazer
A standalone blazer is a great alternative to a jacket during warmer months, also being able to be doubled up as a suit. Focus on fit and the details of the lapels and the buttons, picking the perfect blazer for your style.
Brogues/Smart Shoes
A brogue in a black or tan is a traditional must have and can be incorporated in a lot of different situations. Pair these with high quality laces and some weather spray to increase the life of your shoes.
Canvas Shoes/Converse
A white pair of Converse/Canvas shoes are a polished way of adding trainers into your style. Wear these with jeans a T-shirt for those casual days, before cleaning them up and wear them with a suit for a quirky twist!
Accessories – Watch – Sunglasses – Cufflinks – Hat
A capsule wardrobe isn't complete without sunglasses and all the colourful extras. Aviators and wayfarers can update a stuffy outfit, giving interest and style. Statement cufflinks and pocket squares can add pops of colour to a boring office suit, letting your personality show through in the boardroom!
---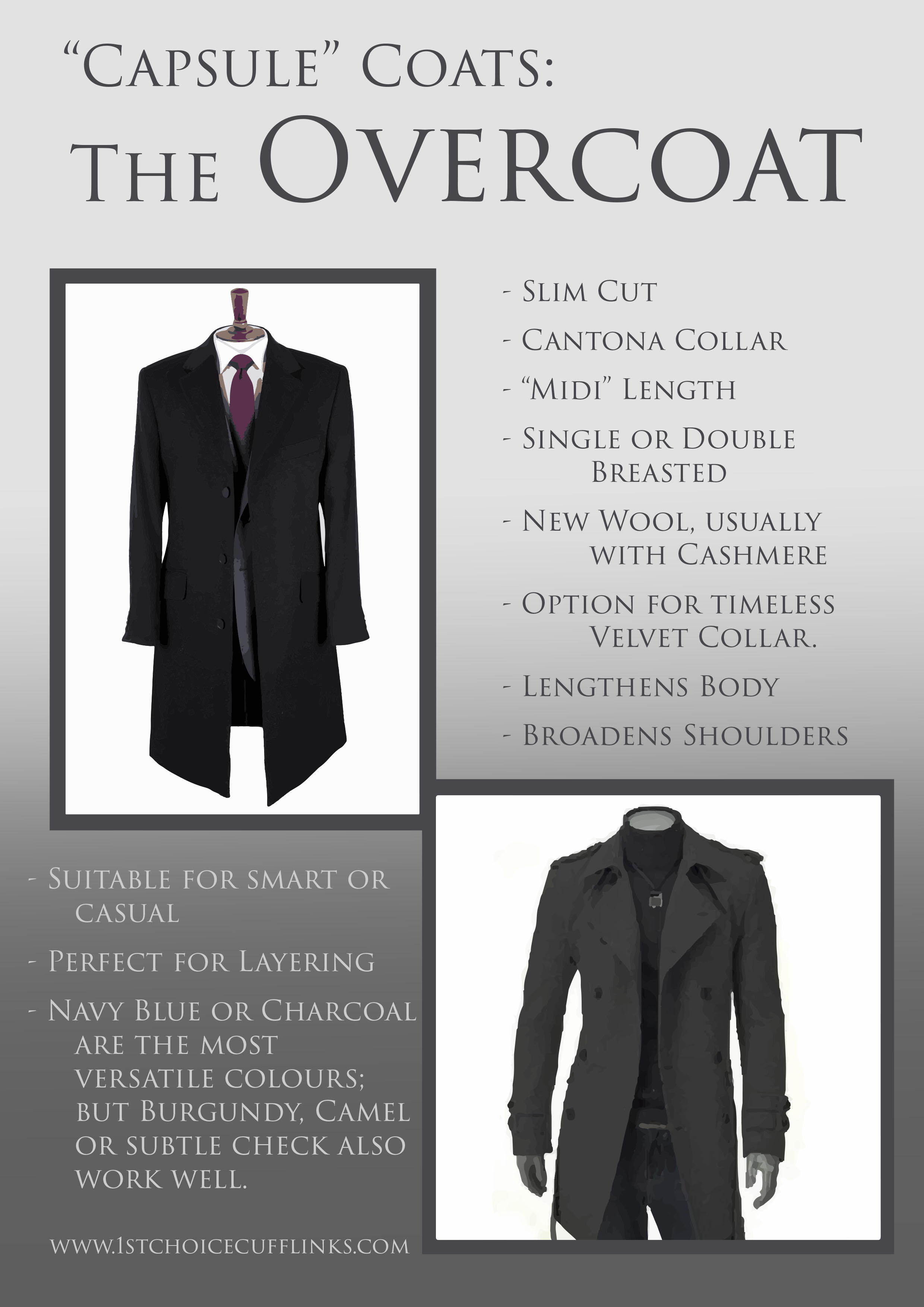 Starting Your Own Men's Style Wardrobe
Narrowing down your clothing choices will make you more aware of what you actually own, maybe unearthing that pair of faithful black brogues that's been with you through every formal occasion! Let your imagination run wild, pairing new combinations and colour ways that you may not have thought of before.
Choose a colour or several complementary colours to base your capsule wardrobe around, this will help you pair clothes together without them clashing or becoming too trend led. Shades of olive, petrol blue, brown, black, navy and grey look great together or separate; giving you unlimited possibilities to lay accessories to make your outfit personal to you. Avoid statement or bright tones as these tend to date quickly (and get stuck in the back of your wardrobe forevermore!).
Once you have accomplished the task of creating your capsule wardrobe, it's time to put it into action to fit with all situations in your life. Whether it be a job interview, a house party or even the dreaded first date, your capsule wardrobe will have you covered!
How To Dress For A The Job Interview

Capsule Wardrobe Components: Three Piece Suit - Smart Shirt - Brogues/Smart Shoes - Accessories
For a job interview, pick the three piece suit from your capsule wardrobe. Whilst a suit may be a big investment, it can be incorporated into different looks and can last for years if looked after correctly! A navy or charcoal shade can be an unexpected twist on a traditional suit, giving subtle colour while still being formal. Team the three piece suit with the brogues or smart shoes to keep with the smart look.
Brogues are great for smart and casual occasions whilst being practical for all weathers. A smart tailored shirt in a plain or patterned light coloured cotton would contrast well with the suit, making you look professional and the ideal candidate for any job! Added touches of a watch and matching cuff links can show your individual taste - letting your personality shine through!
How To Dress For A House Party

Capsule Wardrobe Components: Suit Jacket - T-Shirt - Jeans - Hoodie - Converse - Brogues
The dilemma of house parties is whether you should go smart or casual, being unsure of how to get the balance right. Layering pieces from your wardrobe gives you the freedom to adjust your outfit depending on the atmosphere at the party. A suit jacket can up the ante of a simple jeans and t shirt combo, making a good impression upon arrival. A casual look can be created with the removal of the jacket, letting you relax without being restricted or stuffy!
A hoodie in a complementary olive shade would be perfect for those more casual parties, being ideal for chucking on in a rush and can be removed when the party is in full swing and put back on during the cold walk home! Add jeans and a T-shirt from your capsule wardrobe for a casual look; choosing a converse shoe or a brogue for your footwear choice.
How To Dress On A First Date

Capsule Wardrobe Components: Jeans - Suit Jacket - Smart Shirt - Converse - Chinos
First dates can be nerve-wracking enough without the complicated decisions of what to wear! Stay away from restrictive materials, instead going for smart casual touches that will make you feel comfortable and relaxed throughout your date. Jeans are a fail-safe option and can be dressed up by simply picking a dark wash straight cut pair. Trend inspired jeans with rips or motifs may seem current for this situation but they'll seem dated after a few months. Stick to the classics and you'll be able to wear them for years.
A suit jacket can smarten up jeans and converse, making it the perfect look for a restaurant or theatre outing. Or if that's too formal throw on a jumper over a shirt for a relaxed style suitable for a picnic in the park!
A well fitted shirt is a must have for a first date, effortlessly smart and can be adaptable for smart or casual situations. Make sure the shirt fits well, not too tight or too loose and the sleeves should reach just past your wrist when unbuttoned. Add a complementary tie if you want to impress, or perhaps unbutton the top two buttons of your shirt for a laidback twist on a smart shirt.
Chinos are a great way of adding style to an outfit, centring the look on them and keeping everything else subtle. The casual vibe of a warm rust or camel tone would complement any smart shirt and is easily paired with smart brogues or even converse shoes for a street trend look. How about adding a bright coloured pair of socks to the ensemble, adding fun and quirkiness to your image whilst also being a conversation starter!
---
To make a start on my own capsule wardrobe I literally took every item of clothing out of my wardrobe and separated it into groups, having a foldaway clothes rail helps if you do this. Then following what I'd learnt I tried mixing and matching different items to see how they would look together to see if it really worked. I was surprised at how easy it was to find new combinations I'd never have thought of because I was going with tried and tested instead of trying new things.
A capsule wardrobe may take some time and effort however it is worthwhile to create a set of clothing you love and are proud of! Start picking items gradually and soon you'll never have to rummage through mountains of clothing to find an outfit again!
Posted in
News
By
Kate Robinson