How To Dress Like James Bond
Monday, 28 September 2015 14:38:05 Europe/London

As we all prepare for the imminent release of Spectre - the latest installment in the James Bond franchise - we've looked back at 007's style throughout the years to bring you these Top 8 Lessons in Style that we've learned from the man with a license to kill.
1. Be Fearless
James Bond never shies away from danger. Whether it's jumping over an enemy helicopter on a motorcycle in Tomorrow Never Dies, battling the gargantuan Jaws as he blasts into outer space in Moonraker, or chasing a free-running villain to the top of a 200-foot crane in Casino Royale, Bond never allows himself to be held back. As Elliot Carver so aptly puts it, 'the distance between insanity and genius is measured only by success.' Bond is fearlessly crazy; this is why he manages to thwart one dastardly plot for world domination after another. His uncompromising tenacity to beat the bad guy means that he is always open to new adventures and experiences, and it is this, perhaps, that has helped him become so much more debonair then his MI6 contemporaries. In fashion as in life: be fearless and go after what you want.
'The tradition for Bond is always real stunts, real action, real explosions…' - Skyfall and Spectre director Sam Mendes.
As part of the promotional material for the latest James Bond film Spectre, which is set for release in the UK on 26th October 2015, this exclusive vlog proves that even the production of James Bond embraces the risks and danger of the story, and is all about the high-budget actions sequences:
Bond Villains
So which James Bond villains has 007 had to be fearless against in his defence of Queen, country and (very often) the world over the years? We've compiled a list of the Top 10 James Bond Villains in the infographic below. Do you agree with our choices? Which ones would have made your list? Let us know in the comments section below!
2. Be Well-Informed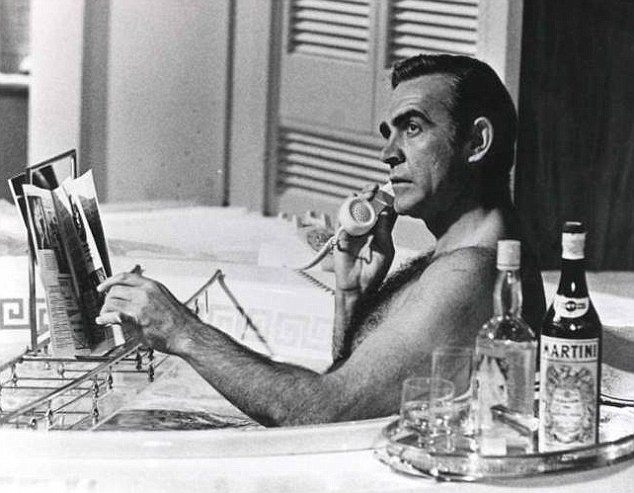 Bond didn't get into Her Majesty's Secret Service just by turning up. According to Fleming in the penultimate novel of the series, You Only Live Twice, Bond was privately educated at Fettes College in Scotland, is multilingual (speaking a total of nine different languages), rises to the rank of Commander in the Royal Navy during World War II before becoming a secret agent at the age of 38, and visits 46 different countries in the film series. More importantly, Bond is style-educated. He knows what looks good on him and where to get it, and wears the classic, minimalist look with ease. Knowledge is power and, in every aspect of his life, Bond has power. I'm not saying you need a private education to look suave in a suit, but with regards to fashion it's important to stay in the know.
Luckily, if you struggle staying up to date with the latest trends, men's fashion blog Valet Magazine has an amazing feature called 'The Morning Report'. This provides a great selection of links to daily style tips and news in the world of men's fashion: from their own writers and other established fashion magazines. It also includes some helpful lifestyle tips in a quick and attractive, easy-to-browse format, (if you're after Bond's bod as well as his brain). Nowadays, most reputable designers, brands and bloggers also have well-maintained social media accounts that can be accessed any time, anywhere, so you really have no excuse to still be lagging behind the latest style trends.
Until quite recently, the white dinner jacket was regarded as being a bit of a style joke. A look that had largely been exiled to the eighties, there was something inherently awkward about the modern man sporting such attire. And, if there was any time that the white dinner jacket was acceptable, it was explicitly during the summer months only. In one of their online articles from 2012, GQ Magazine told its readers to 'Ditch the white jacket. If it's the daytime, if it's the summer, if you're an ex-army colonel on a cruise in the tropics, you can wear one - and a white jacket might actually look more appropriate. But never in the evening or in the winter.'
But now the white dinner jacket is making a comeback. It all seemed to begin with this year's Academy Awards; Benedict Cumberpatch, Jay Z, and Eddie Murphy all sported an ivory dinner jacket on the red carpet, with others like Adrian Brody and Kevin Hart adapting the look slightly with black lapels, and the style is now regarded as one of the current formal wear trends to watch in a recent blog from men's lifestyle website Accent by Chubb.
Unsurprisingly, James Bond remains firmly on-trend with his choice of evening wear. In one of the latest posters from Spectre released earlier in the month, Daniel Craig's Bond is shown donning an ivory dinner jacket for the first time since the Roger Moore era thirty years ago. The jacket is designed by Tom Ford, as are most of Bond's suits in Spectre.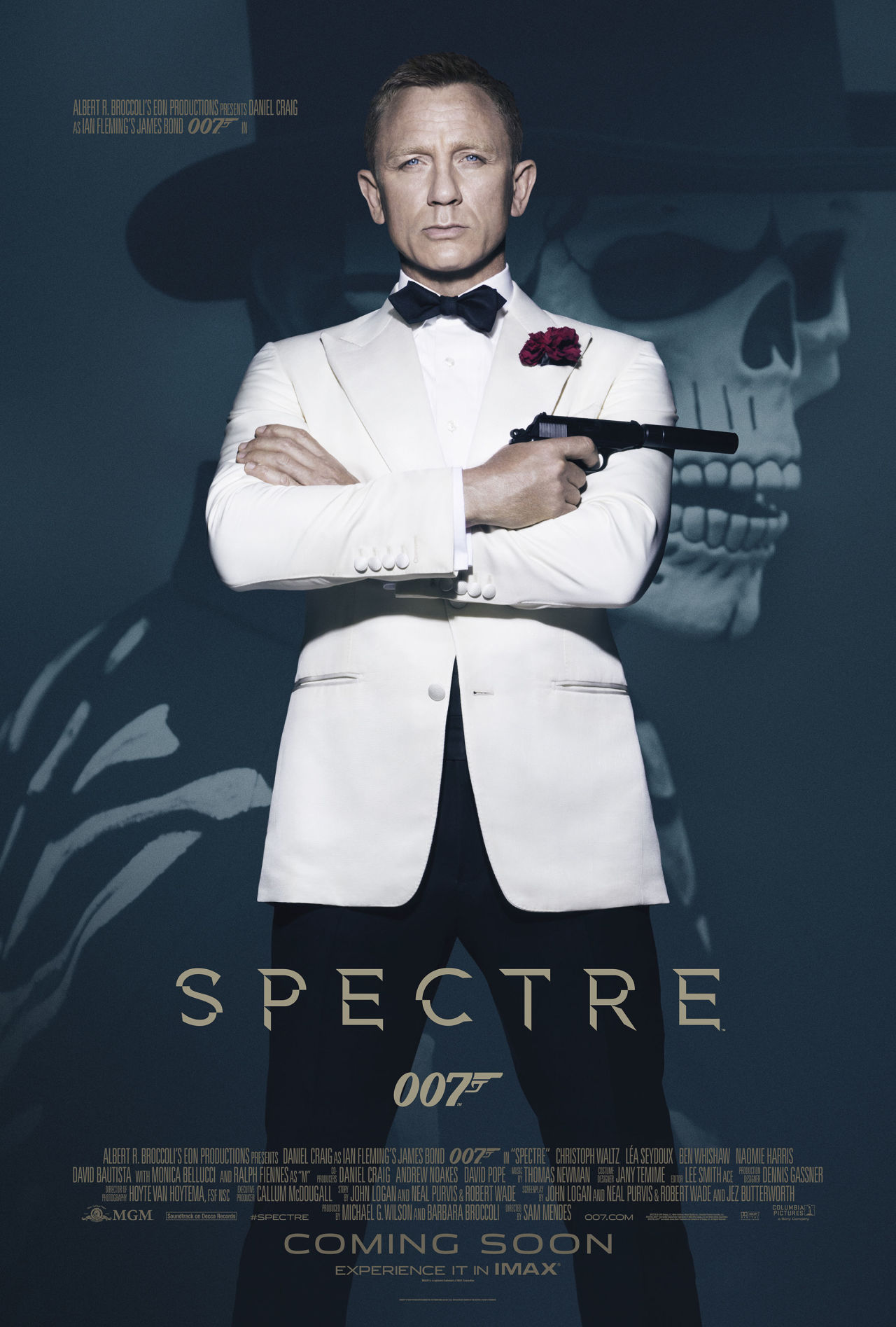 Watch the ivory-clad Daniel Craig in action here in one of the official movie trailers for Spectre:
3. Be Creative
In life, it's all about survival of the fittest; only those who can adapt to change are going to make it. As a secret agent, James Bond is renowned for getting out of tricky (and potentially fatal) situations by using his creative intuition, fearlessness and a little bit of luck. And essentially, the 007 franchise as a whole is epitomised by its protagonist. Producers of the films have constantly had to change the 'Bond formula' to ensure consistent box office success and viewer engagement. Even Bond himself has changed: six times, no less. And, while the classic, minimalist 'essence' of James Bond has been preserved throughout the series, with each new actor a new element of style is introduced.
Who are the James Bond actors?
How many James Bond actors have there been over the years? And how has 007's style developed with each reincarnation? We've taken an iconic suit from each of the six actors who have played James Bond and charted the secret agent's style evolution in the infographic below...

We've seen Bond stylistically progress from Sean Connery's famous grey Anthony Sinclair glen check three-piece suit in Goldfinger, through the brightly-patterned ties, white dinner jackets, frilled dress shirts and wide lapels of the Roger Moore era, and into the more rugged, rough-around-the-edges open-collars and unfastened black ties of Daniel Craig. It's ok to change. In fact, it's healthy. Don't be afraid to move with the times, experiment with the latest trends, maybe get it wrong sometimes and see what works for you.
Outside the world of fashion, a brand new James Bond game for iOS and Android is also set to test your creativity and secret-agent intuition when it is released alongside Spectre later in October. James Bond: World Of Espionage is a strategy game where you'll collect characters and equip them with the latest of Bond's state-of-the-art technical gadgets and devices. It also includes a PvP mode and social functionality like messaging and leaderboards. You can pre-register the game for your mobile here.
Have a look at the official gameplay trailer below and let us know what you think.
4. Be Assertive
'Three measures of Gordon's, one of vodka, half a measure of Kina Lillet. Shake it very well until it's ice-cold, then add a large thin slice of lemon-peel. Got it?' – James Bond, Casino Royale.
In the 53 years that we have known him, James Bond has always had the confidence in himself to be assertive in his decision-making. He knows exactly who he is and what he wants, and isn't afraid to go out and get it. And with regards to fashion, as well as to life in general, this is perhaps the most valuable lesson we can learn from him. After all, as Gore Vidal once said, 'style is knowing who you are, what you want to say, and not giving a damn.' While a lot can be said for letting the tailor cut his own style into a suit, if you don't think that it works for you then tell him. You're the one wearing the clothes: it's only right that you should pick them. James Bond doesn't have time to look anything less than debonair and neither should you.
Earlier this month, The Telegraph released a great feature on 'What Bond Really Drinks', as they looked back through all of Fleming's books and films in the franchise to build up an alcoholic portfolio of the world's favourite secret agent. And it seems that, since Vesper's unforgivable betrayal in Casino Royale back in 2006, Daniel Craig's Bond has abandoned the famous cocktail he named in her honour for simpler pleasures, as he stars in the new Spectre-themed advertisement for Heineken beer:
Throwing a swanky dinner party? Having a 007-themed pre-drinks session at your house? Getting drunk on your own and wanting to look suave while you do it? Look no further! Here's how to whip up six of James Bond's favourite cocktails from the books and the films: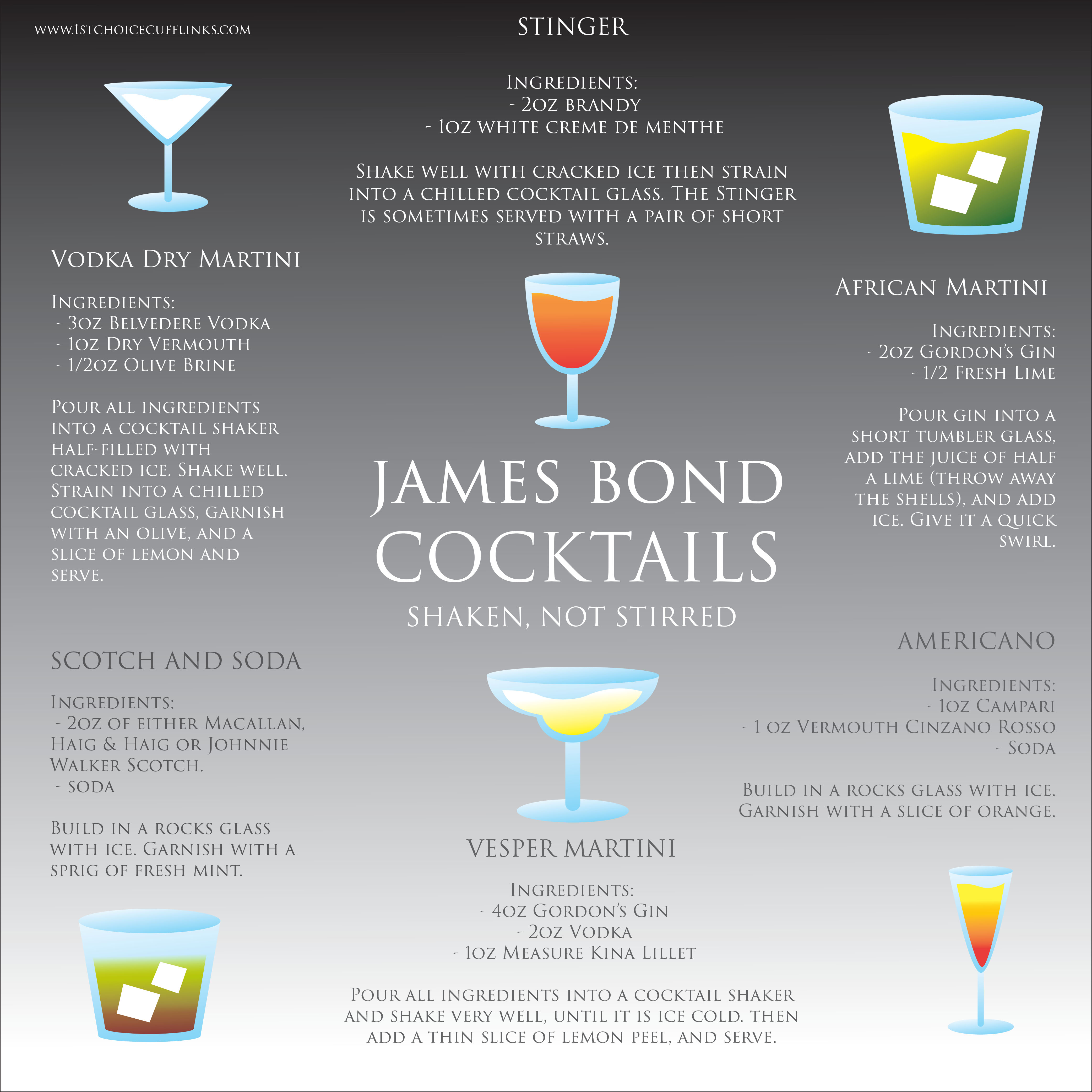 5. Be Smart
It could be a high-stakes poker game. Maybe it's a fancy dinner party with other undercover government operatives. Whatever the time of year, James Bond always has an occasion to don a black tie. And, quite often, his incomparable style is essential to his undercover work; in Casino Royale, Vesper rightly tells Bond that 'there are dinner jackets and dinner jackets' and that he needs to look 'like a man who belongs at that table' if he hopes to get into Le Chiffre's poker game. Alas, not all of us are James Bond and many of us are lucky if we ever get an opportunity to go to a formal black tie event. Nevertheless, we shouldn't be afraid to dress up from time to time and incorporate a bit of Bond into our everyday lives.
The obvious opportunity for most men to do this is at work. Quite apart from sending a positive message to your employers, a smart sense of style can have significant psychological effects that may improve your overall performance. By being well-groomed, you exude confidence, power and the appearance of having control over a situation. As your co-workers recognise this and respond to it, you start to gain more confidence, power and control over the situations that you find yourself in. It is a positively-reinforcing cycle that shouldn't be underestimated. In The World Is Not Enough, Q tells Bond to 'never let them see you bleed'. The same applies to most areas of your own work: you should never reveal your vulnerabilities to a competitor, and your stylistic choices can go a long way in helping you disguise any potential weaknesses.
In addition to providing their own grooming tips and links to a number of cool fashion blogs, The Art of Manliness has a great section on business etiquette. The online lifestyle magazine also has a number of features – such as health & sports, manly skills, and money & career – that I'm sure would have piqued Bond's interest had he existed in the real world and not just in Ian Fleming's imagination.
6. Work Hard, Play Hard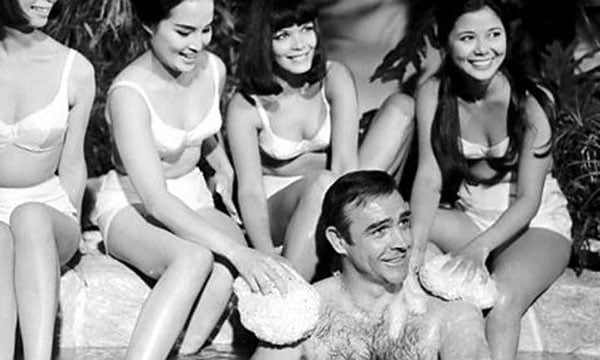 Girls, cars, guns, holidays in the Bahamas…James Bond certainly knows how to have a good time. Sure, he gets shot at occasionally, but when he's not working he makes sure that he's playing. He famously says in Thunderball, 'I'd rather die of drink than of thirst', and his style quite often reflects the wry playfulness of his character. The Madagascan leaf-patterned shirt Daniel Craig wears in Casino Royale is a great example of this; as is the wine-coloured V-neck sweatshirt, light-grey polo shirt and grey straw trilby (complete with white and red-striped hat ribbon) ensemble that Sean Connery dons in Goldfinger. You can't rock a suit all day everyday (as much as you'd like to!), so when you kick back don't be afraid to have fun with your casual style choices and show off your personality.
Or, if you're hoping to mix business with pleasure, try and find a suit that is flexible enough to keep you looking dapper wherever the day (or night) may lead you. The Ape To Gentleman blog's showcase of the new Paul Smith 'travel suit' - as it is put through its stylistic paces by Olympic medal-winning gymnast Max Whitlock - proves that smart is suitable for every occasion.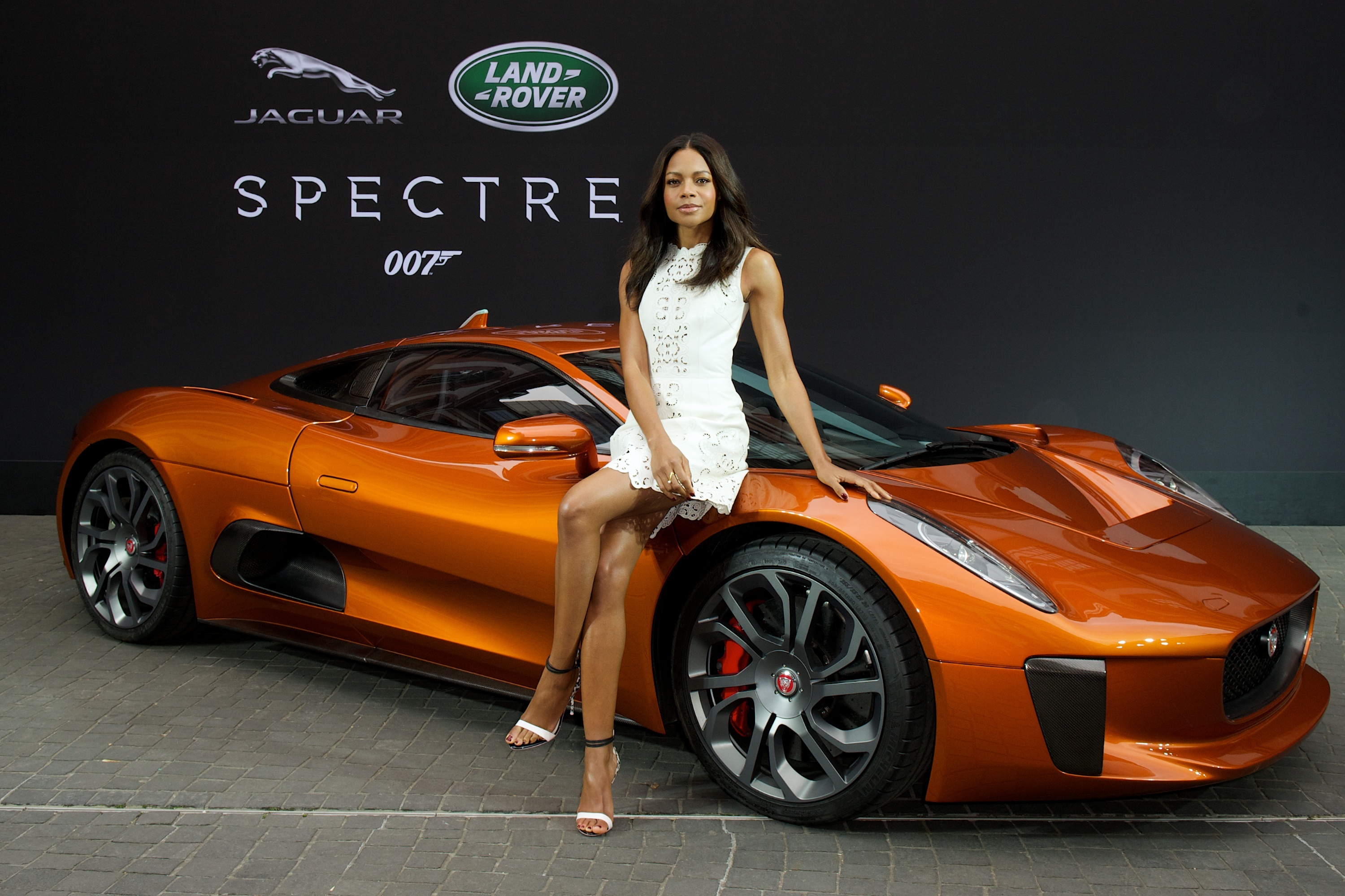 Naomie Harris, who plays Moneypenny in Spectre, was certainly taking a leaf out of Bond's book by having fun with fast cars at the Frankfurt Motor Show last month. Both Jaguar and Land Rover revealed the latest cars to be featured in the 007 franchise at the event.
7. Age Doesn't Matter
As Yves Saint Laurent once said, 'Fashion fades but style is eternal.' Whether you're of the younger or more mature demographic, a smart, sophisticated sense of style will never seem out of place. Look at James Bond: George Lazenby was only a fresh-faced 30 years of age in On Her Majesty's Secret Service, whereas Roger Moore still had a license to kill it in the style stakes at 58 in his final Bond movie, A View To A Kill. Bond is timeless and so are the classic style choices that he makes.
Now I know what some of you may be thinking. James Bond is a wealthy secret agent, travelling all over the world tracking down affluent megalomaniacs in an attempt to stop them from world domination: a black-tie occasion always presents itself naturally to him. But what about me? Where can I wear a fitted suit, neck-tie or sterling silver cufflinks without a particular 'occasion'?
For the simple answer, I guess you would first have to think WWBD: would would Bond do? Would he lurk in the style shadows, waiting for an opportunity to present itself? No he would not! He'd go out into the world and make his own occasion to throw on some formal wear! Take your loved one out for a romantic meal, enjoy a day at the races with the lads, visit the theatre, visit the casino, take up ballroom dancing, organise a games night at your local billiards hall, set up a weekly poker night...there are so many opportunities out there that will allow you to dress up and stay dapper, you just have to go out there and find them! Get hold of the virtual grapevine and see what other men your age are getting involved with in your local area via social media channels and blogs, or become a social innovator and organise an event yourself.
If you're looking for some inspiration online, check out the hobbies listed on The Art of Manliness blog, or, for more fashion-related advice for the older gentleman, The Grey Fox Blog boasts some really great content and has a particularly interesting piece that re-imagines James Bond in the modern world of men's fashion.
8. Be Charming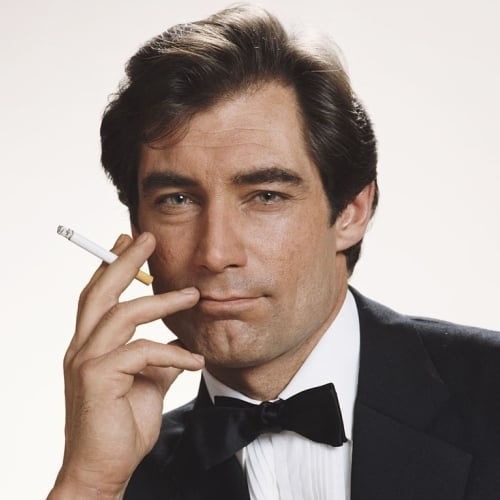 The most important thing to remember with regards to style is to stay true to yourself. As Timothy Dalton says in The Living Daylights: 'Don't think. Just let it happen.' It doesn't matter how much money you've paid for the very latest fashion trends, or how many hours you stood and had your suit tailored: if it doesn't feel right then it won't look right. True style comes from the confidence to be yourself.
Think of George Lazenby - you remember him, right? Of course you don't. He was the 'one-hit wonder' of the James Bond franchise - the interim after Sean Connery quit the role in 1968 and before Roger Moore began his campaign to become the longest-running Bond in 1973. George Lazenby managed to land the role mainly because he looked the part: he went to the same barbers as Sean Connery, donned a tailored Saville Row suit that was ordered, but uncollected, by Connery for his audition, and sported a classic-Bond Rolex Submariner wristwatch. The problem was, Sean Connery had left the franchise and producers didn't just want someone to come in and imitate him. They wanted a new Bond - a fresh Bond. George Lazenby was, to all extents and purposes, just an impersonator. He didn't take over the role of James Bond, James Bond took over him.
If you look at all the actors that have followed Lazenby - Roger Moore, Timothy Dalton, Pierce Brosnan, Daniel Craig - they have all brought something unique to the role; Moore as the playboy-turned-spy, Dalton as the dark and brooding Bond, Brosnan with his deadpan wit and effortless charm, and Craig as the wounded hero filled with irony and dark humour. The only way to ensure honest success - in business, fashion or life - is to stay true to yourself and embrace your own individuality. Sartorially, this can most easily be achieved through your choice of accessories; neckties, pocket-squares and cufflinks all provide the perfect stylistic opportunity to let your personality shine. While it might be advisable to keep things classic for black-tie events or important business meetings, for the more informal occasions, quirky, bespoke cufflinks or vibrant pocket-squares can add a fun twist to your outfit and help you charm the birds out of the trees with your individuality.
How many James Bond movies are there?
Are James Bond books good? How many years has he been our favourite secret agent? Are the James Bond movies in chronological order?
This definitive timeline charts James Bond's complete history - from his origins in Ian Fleming's imagination in 1953 right up to the imminent release of the twenty-fourth Eon-produced Bond film, Spectre - and helps to answer all of those burning 007-releated questions.
So, just to recap: that's fourteen books and twenty-four James Bond films in total. Sean Connery was the original Bond and featured in the first five movies; he was briefly replaced by George Lazenby for one film in 1969, before returning to the franchise for a final performance in 'Diamonds Are Forever' in 1971. Roger Moore then took over the role for the next seven films, becoming the longest-running James Bond actor to date. Timothy Dalton was 007 for two movies after Moore, before Pierce Brosnan took over the licence to kill for the next four films. Finally, Daniel Craig became Bond in 2006 and has become a firm fan favourite ever since. Craig has performed in a further three movies after Casino Royale - including Spectre, which is set to be released later this month.
When is the next James Bond film going to be released?
Spectre is released in the UK on October 26, 2015 and in the US on November 6, 2015. Watch the official trailer here and let us know what you think in the comments section below.
Final Thoughts
That brings us to the end of our list of the Top 8 Lessons in Style that we've learned from James Bond. Whenever you look to 007 for style-related inspiration, just remember: be fearless, be well-informed, be creative, be assertive, be smart, work hard and play hard, age really doesn't matter and, above all else, be charming as yourself.
We hope that this post has 'shaken' your stylistic choices up a bit and 'stirred' you into going out to watch Spectre when it is released in the UK later this month! Thank you all so much for reading - if you have any thoughts, comments or queries that you'd like to share, please get in touch with us via the comments section below.
Posted in
News
By
Rebecca Hardy