Grooms – How to Use Your Wedding Wear for Everyday Use
Monday, 15 June 2015 14:05:00 Europe/London

In today's society most men seem to think that you can only wear your wedding suit for the special day and no other. Well I say not! It's a shame we spend so much money on them and they never see the light of day again.
After looking into this topic I couldn't seem to find anyone providing any insight on this so I thought why not create my own post. Here I'm going to look at some of the items you may have purchased for your big day and how you can incorporate them into your everyday wardrobe.
Most men in this day and age wear a shirt. Either for the office or casually, a shirt is a staple in many men's wardrobe. No man however looks good in a wrinkled, ill-fitting shirt, that's why you should always have collar stiffeners in your top drawer – or wherever you put your small bits and bobs. Slide the collar stiffeners in your collar for a crisp appearance that doesn't sag throughout the day! Collar stiffeners are a small price to pay for your wedding and they keep on giving for years after too, go the extra mile and add a dash of romance for your fiancé and have them engraved for the big day, then continue to remember your wedding in your every day to day life for years to come.
The pocket square (or handkerchief) is another accessory that can be so easily over looked, but adds a huge amount of class and style to your outfit. Again, it is not about buying one very expensive item to wear for only one day, your wedding day, but any day! A pocket square is not expensive to begin with, but added to your everyday casual blazer or jacket you will instantly appear much smarter and more sophisticated. It is a very simple addition that can spruce up a casual outfit or relax overly formal attire.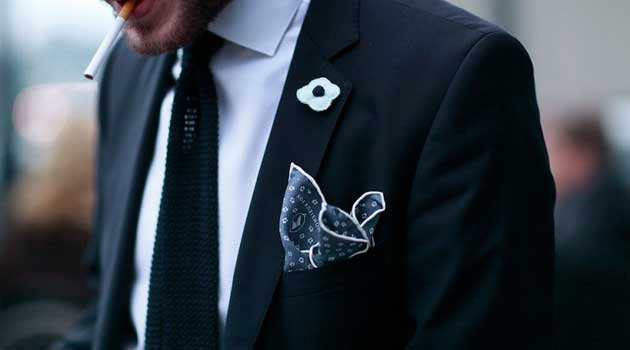 The website obviously has a huge host of cufflinks to choose from, but these days few people like to have the cheesy novelty cufflinks or accessories that may have been popular in the 90's, so we opt for the simpler, more stylish types that feature elegant designs with striking colours, that do not distract, but compliment the grooms attire by matching the tie or other accessories. Your cufflinks can be further used for when you are attending a formal social event or just simply to add a touch of elegance to your outfit!
Navy Suit
Navy suits are an ever growing trend for weddings and are a great alternative to black ones. Whats great about a navy suit is you can look your best at a wedding and it can also be worn for many occasions afterwards. For example you could wear your navy suit for work, interviews and any type of social event.
I have put together a few inspirational ideas for re using your navy wedding suit.
Wear your suit with a check shirt and dark knitted tie to offer a more casual look. Perfect for going out and about but still looking smart.
Secondly, you can wear your navy suit with a t-shirt offering a simple look that with the addition of a casual trainer this look will look fantastic.
Wearing a jumper underneath your suit jacket is personally one of my favourites and offers again a more relaxed look but still leaves you looking sharp. Pair this with maybe a brogue or even an oxford for a great look.
No man should wear bad shoes, at any point in his life. There is no excuse for a groom to be unstylish or appear lazy and disgruntled on his wedding day either. A pair of black Oxford cap toes are the staple shoe that all men should have. They are as formal as you can get but as versatile as physically possible. This pair of black dress shoes can be worn for your wedding day, a birthday, a BBQ, wear them in the office or to the pub – people complain that you only wear your wedding day clothes once, well not this shoe! They say the first thing someone notices about you is the shoes you wear; it sets the first impression of you as a person, your personality, your morals, ethics and attention to detail. A man should always wear good shoes and he should educate himself in the rich and extensive history and culture revolving around them.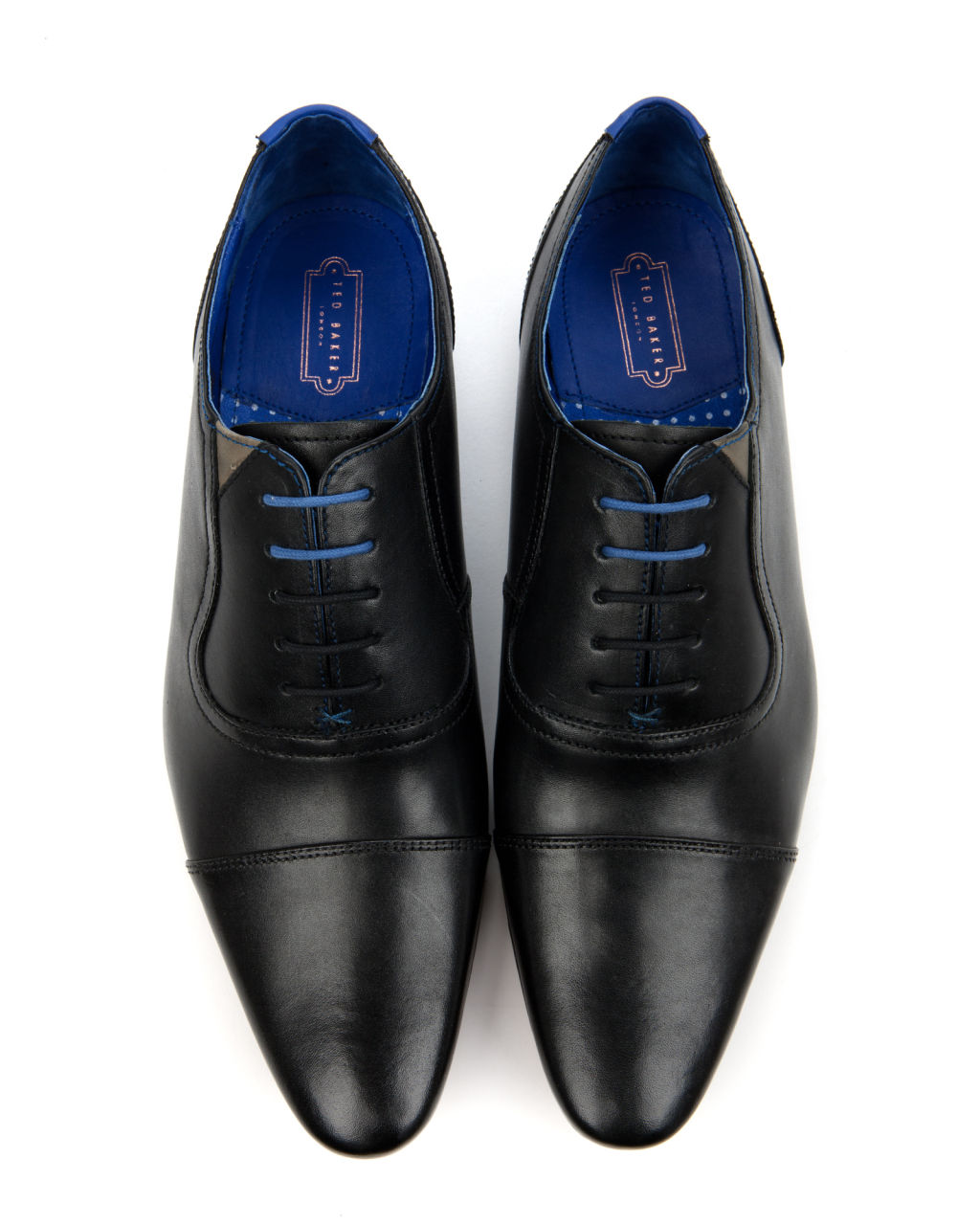 A boutonnière is the small jumble of flowers traditionally found on lapels that you will only use a handful of times. You may think that wearing flowers on your lapel is a little feminine and I get it, but just think that from the beginning of time great soldiers have worn flowers on their chests with pride and even to this day men at the Olympics are presented with flowers on the podium!
I say if you have the confidence to go against the grain do it, however if you don't want to stand out from the crown I would suggest not to wear one.
"The Everyday B
outonnière

by Stinson"

The boutonnière is a little harder to make use of every day, but take a look at The Knot's selection of ideas and we think you will be quite happy to have one of these hanging around for a while. You can geek them up, or use them as little decorations around the house in your new home – starting your new life!

"To add a whimsical touch to the deep red and magenta ranunculus boutonnieres, the couple included Lego superhero figurines." - The Knot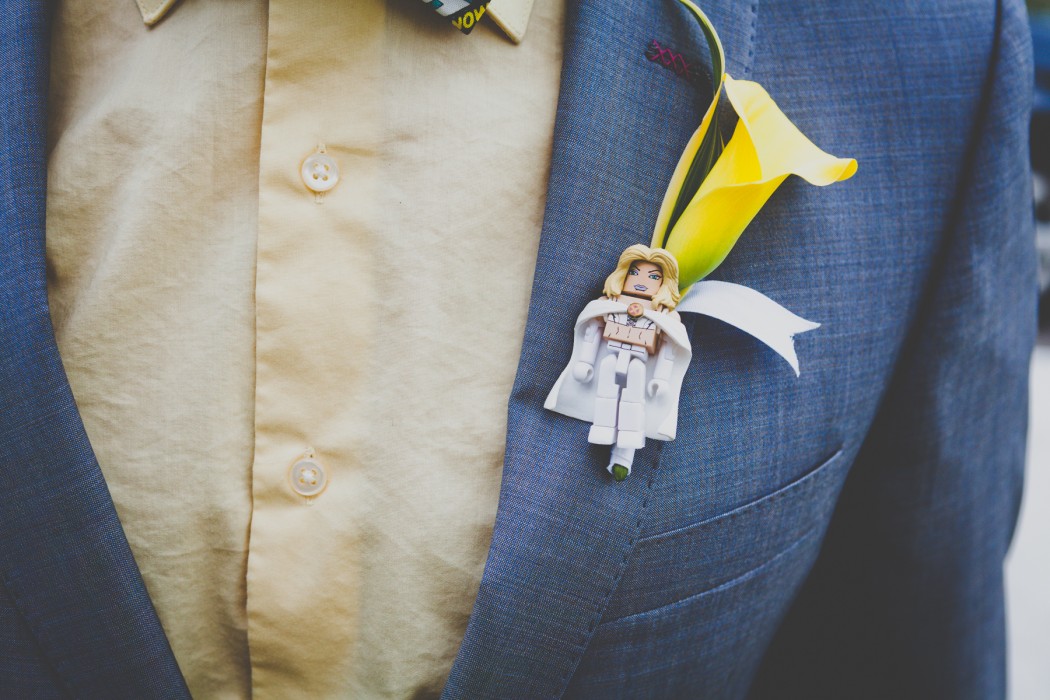 I really hope you found this a good read and would love to hear from you guys. If you feel I have missed something or you have an idea I can add to the blog feel free to get in touch!
Posted in
News
By
Sean Anderson